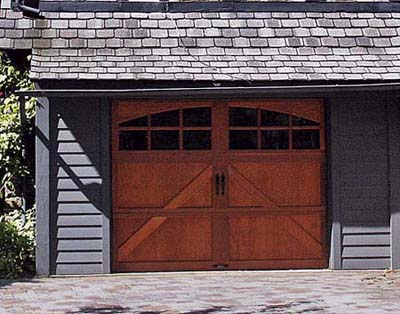 There is something about a garage door that says home to people. It is the first thing you see when you get home so there is something about the garage door that inherently symbolized family and home. I remember being young and pressing the garage door button from within the garage and then I'd race out before the door came down. My brother and I did this together and it was so exhilarating! We would dare each other to do it again each time like it would be that time we wouldn't make it. Eventually we found out there was a sensor and we never were going to be smashed by the garage door but we still played it all the same.
Garage doors are a huge part of the face of your home and Castlegate Steel and Wood Garage Door Service, Inc. understands this and wants to help you represent your home and family in a way that expresses who you all are. They are a locally owned company and have been since 1992. The offer many different kinds of garage doors in wood and steel. They have residential steel and wood garage doors that come in many different styles. For example the wooden doors have much more of a rustic feel to them as opposed to the steel which tends to feel more elegant. They also have commercial steel garage doors that are a little more cut and dry in that you can have ribbed doors, micro-grooved sandwich doors, sandwich type doors and aluminum full view doors. They do not carry any wooden commercial garage doors. Finally they offer rolling steel garage doors much like the ones you usually see at storage units or ware houses. When choosing a rolling steel garage door you want to choose a manufacturer like Castlegate who has years of experience with garage doors.
Castlegate also specializes in garage door openers but not just the remote control for the garage doors but the actual mechanism that opens and shuts your door. A garage door can not do much without a garage door opener and that is why Castlegate has made them their business. There are two different garage door opener systems: one is the sommer-synoris operations that promises no noise and no maintenance. Its unique design is the reason they make no noise and there is a lifetime guarantee that comes with your purchase. Its easy to install and there is no maintenance required with it. You also don't have to worry about the sagging of the chain or belt. The second system they have is called the Chamberlain Lift Master Professional and it comes in many different models so you can be sure to pick one that perfectly fits whatever your need may be. There are seven different models including their estate series and you can even purchase garage door opener accessories.
If ever you have any questions about which of Castlegate garage doors will be good for you, just give them a call and have an experienced professional help you decide what will be best suited for your space so you will be able to have the freedom to make your garage door represent your home.